ω series can produce the highest grade of water quality in the industry.
It enables the extreme reduction of all elements, especially, TOC, Silica, and Boron. Ideal for ultratrace analysis.
ω

series
ω

Ultrapure water usage

~20L/d

Quality of trated water

18.2MΩ・cm

TOC

≦1ppb

ω60

Ultrapure water usage

~60L/d

Quality of trated water

18.2MΩ・cm

TOC

1~5ppb
Application
Analyzing ultratrace metal


ICP-MS/MS、ICP-AES, FL-ASS, IC

Organic analysis


HPLC, LC-MS/MS

Bio experiment


Iontophoresis, molecular biological experiment

Pretreatment for analysis, adjusting reagent, cleaning purpose etc.
Feature
Dispensing speed

Maximum dispensing flow rate is 2.0L/h.
* Only by the dedicated dispenser.
* The value differs depending on models.

TOC display

Suitable to organic analysis too.

Dispensing flow rate adjustment

Five steps of flow rate adjustment.

Fixed -volume dispensing

It dispenses exactly the volume you set.

One-drop dispensing

It can dispense from a single drop like using washing bottles.

Foot switch

It enables hands-free works.

Ultrapure water tank circulation

The quality of treated water is constantly high.
Circulation modes can be selected between constant circulation or intermittent circulation.

Alarm notification

It issues an alarm or buzzer in case of the water leak and the replacement of consumables.

Auto tank water refill

When tank water is reduced, water is automatically filled up to tank.

Water leak sensor

It can prevent the fatal trouble.

Compliance with worldwide standard
(option)

It can be used worldwide.
* Some products will be not complied. Please contact us for the details.
Perfecting "purity"
Extremely pure H2O

Resistivity:18.2MΩ・cm / TOC:≦1ppb (1-5ppb by ω60)/ Silica<0.1ppb / Boron<10ppt.
Although Silica and Boron are hard to reduce in a conventional way, we achieve the extreme reduction of those elements.

UF is equipped as the standard

RNase, DNase, Endotoxin-free water (suitable for bio experiment) is produced.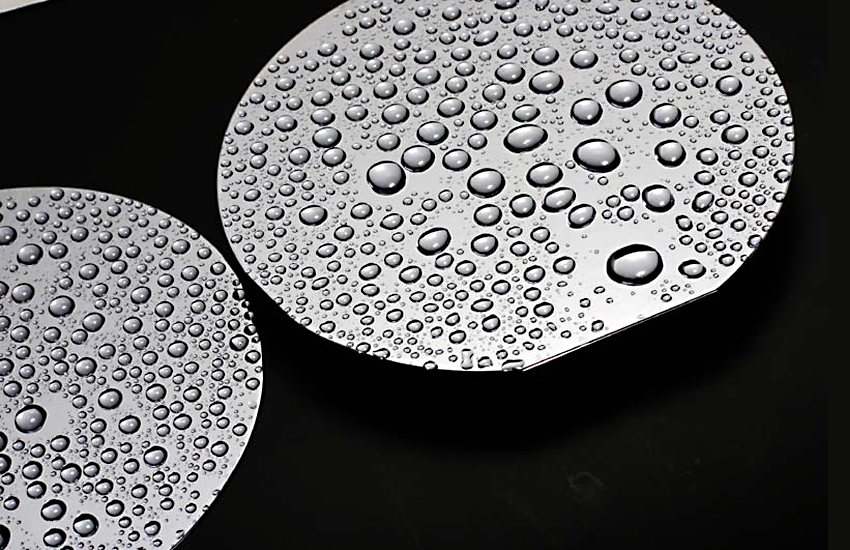 Perfecting "installation"
All-in-one package with a built-in pure water tank

Additional shelves and tank are not required for installation. Also easy equipment transfer is possible with equipped casters.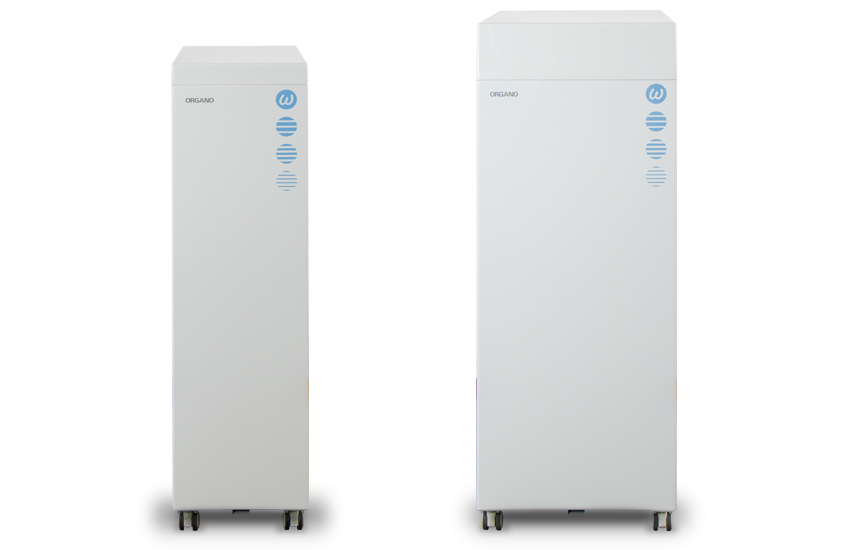 High-performance dispenser
Color display with excellent visibility

It is equipped with a touch panel that displays the water quality including TOC value in real time.

Dispenser to be installed as you want

Dispenser is an independent unit from its controller. You can put the dispenser on the experimental desk and use it more flexibly.

Excellent dispensing function

– Dispensing volume from one drop to 2L/min in adjustable with dial hands.
Without washing bottles, diluting in measuring flask is possible with stable and smooth drop dispensing.
Volumetric dispense from 0.1L to 54L and foot switch dispense are available.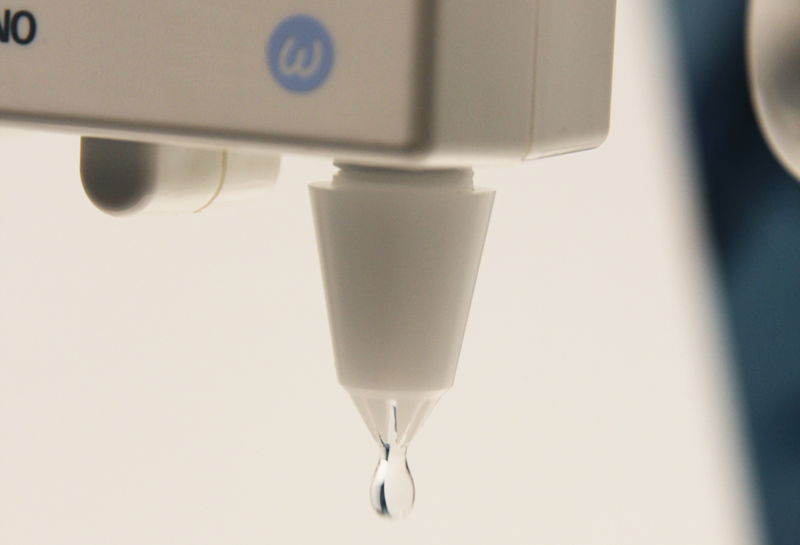 High quality of the next-generation ion exchange resin
Reduction of the elution of impurity
The resin is produced in the special way to prevent the metal elution. With the Organo's unique method, we have achieved the special clean technology and have successfully reduced the elution of metal, TOC and particles.

Uniform particle size of the resin

Adopted ion exchange resins are uniform-particle sized, which enables the stable operation by the reduction of pressure loss.

Dedicated factory to ion exchange resin.

The resins are refined in the same way with the high grade resins refined for the electronic industry which requires the highest level of purity.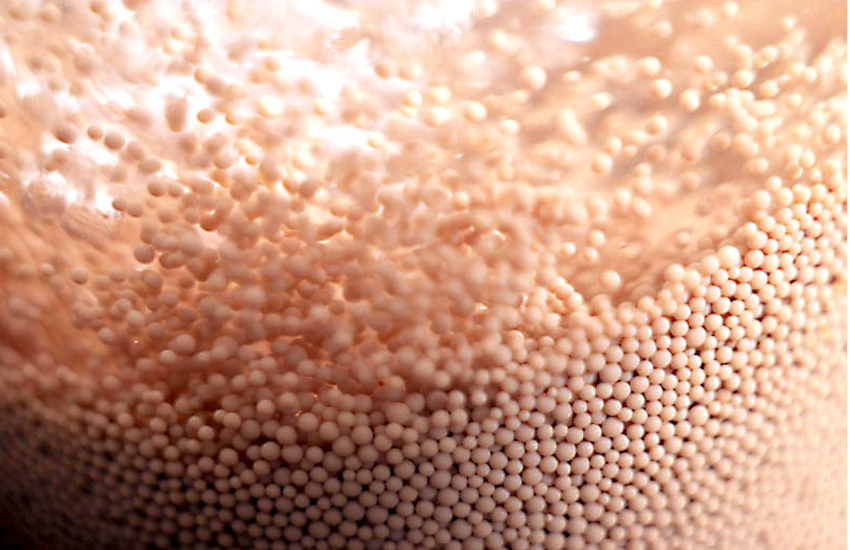 Virtual experience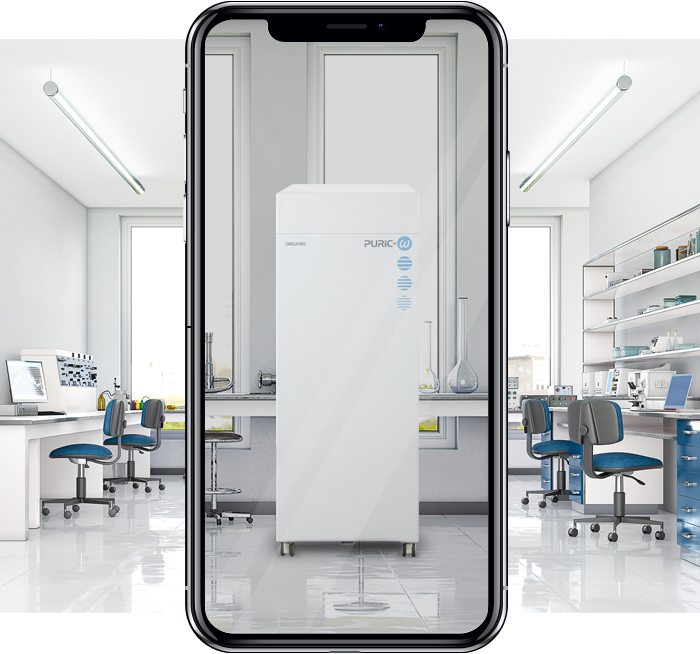 Using smartphones, you can demonstrate the installation and get the image of the product size.
Read QR code.
Tap the mark and point the camera at the aimed installation space.
* Some models cannot be supported.
Specification
| Model | Processing flow rate | Dimension(mm) | TOC monitor |
| --- | --- | --- | --- |
| ω | one drop ~ 2L/min | W300xD600xH1100 | Real time |
| ω60 | one drop ~ 2L/min | W450xD700xH1200 | Real time |
Consumables
ω

/

ω

60

Item
Replacement timing

1

Pretreatment cartridge
6months

2

RO cartridge (2 sets of RO element)
12months

3

EDI
–

4

Composite cartridge
6months

5

UV oxidation lamp
12months

6

Ultrapure water DI cartridge
6months

7

Ultrapure water DI cartridge
6months

8

UF
12months

9

Air vent filter
12months

10

UV lamp for TOC meter
6months
※The lifetime of consumables largely vary with the feed water quality and usage conditions.
Related product
Rinse port for Agilent technologies' ICP-MS autosampler

Continuous wash for the introduction part to ICP-MS with fresh ultrapure water from type ω. The analysis result becomes more stabilized since the rinse port will keep prevent the impurities with ICP-MS auto sampler.