Introduction
We introduce the interview with Mr. Yuichi Takaku about ω series.
He is a prominent researcher in the field of ultrapure water, working for the Institute for Environmental Science.
The Institute for Environmental Science is a public interest incorporated foundation established on December 3, 1990 and is for studying the environmental and human safety of radiation and radionuclides. Through spreading the knowledge obtained from the research to the public, it promotes scientific understanding on radiation safety for the environment and human health.
Since "ultrapure water" plays a very important role in these research institutes, the demand for performance and cost are very strict.
Mr. Yuichi Takaku, an expert in the field of research and analysis, will introduce why he chose the ultrapure water equipment ω series.
The Institute for Environmental Science


Mr. Yuichi Takaku

He worked for Marubun Corporation(Japan) and VG Elemental (UK), then joined the Institute for Environmental Science. He has obtained a bachelor's degree (engineering) from the Faculty of Engineering, Nagoya University.
Organo Corporation Development Center


Mr. Hiroyuki Nishimura

He joined Organo Corporation in 1997.


In Organo, he has been in charge of ultrapure water analysis. Currently, using his expertise, he is involved in the development of standard ultrapure water production equipment as ω series development chief.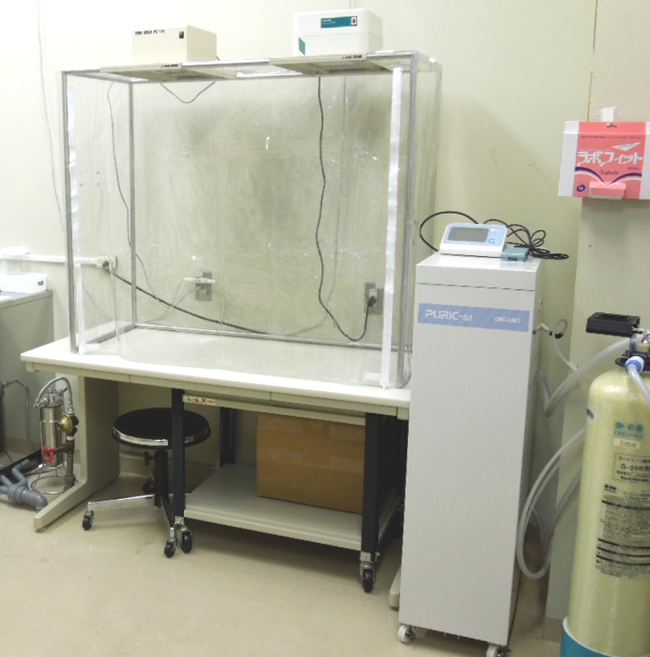 ω series installed in the laboratory. It can be installed in a small space among the experimental facilities.
This is how ω series is installed in the laboratory of Mr. Takaku, who particularly analyzes trace metal elements that affect the environment.
Reason of selecting ω series
The strict demand of the industry prefers ω series.
Here, we would like to ask about the reason why Mr. Takaku has selected ω series.
"When selecting the equipment for analysis and research, the suitable specifications should be examined closely. Please tell us the background behind the selection of ω series."
Mr. Takaku

With ordinary ultrapure water equipment, the specifications are decided by the manufacturer, and it would be hard to make it custom-made. If we want to order a custom-made product, we have to install a large equipment such as for a large plant scale. A small scale like many laboratories usually does not require such a large scale. Organo has the know-how to make custom-made ultrapure water equipment for large plants, and it is also considered to be able to supply the parts and consumables individually.

Mr. Nishimura

If very strict ultrapure water quality is required for analysis, it is certainly necessary to have "custom-made" like a large plant, but it will be often too much equipment and also difficult in terms of laboratory space. However, the highly required water quality may not be achieved with ready-made products.

Mr. Takaku

It has been more than 10 years since I came here (Institute for Environmental Science), and during that time I have been receiving parts and consumables for plant use and also information on upgrades from Organo. We have been appreciating Organo with such know-how and various important information.
For example, we may require the different water purity levels that were not initially needed and also technologies that remove only specific elements. It is very helpful to be able to incorporate such special technologies into existing equipment.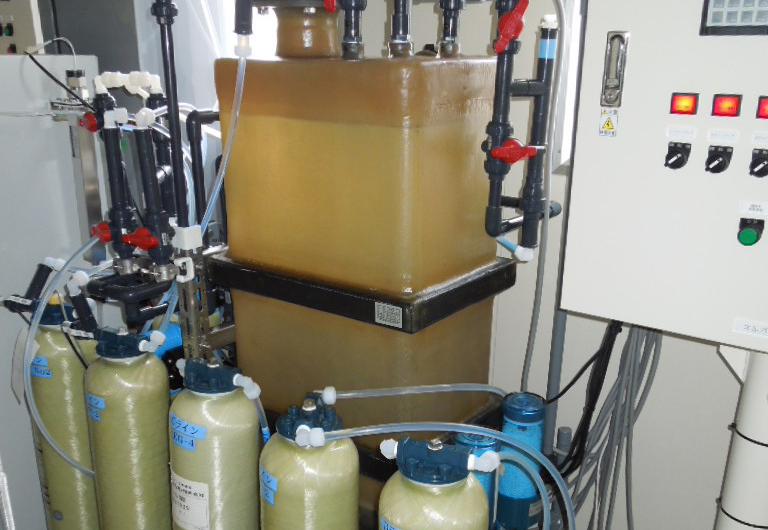 Organo has the know-how to make large plants but also small standard products, so it is possible to make custom-made ultrapure water equipments.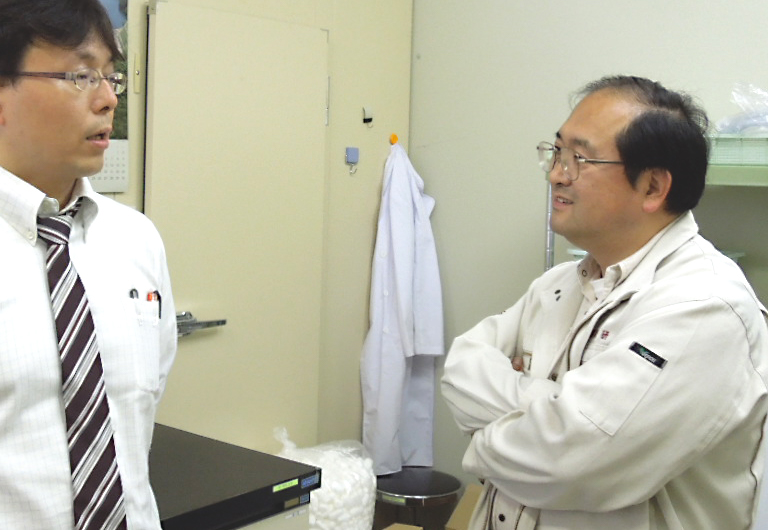 Reason of selecting ω series
Especially with ultrapure water required for advanced trace element analysis, it was a good example to fully show the performance of ω series. The specifications usually would be "custom-made" if the highly required water quality level be met. But it is the good point of ω series that Organo is able to meet it as a standard product.
Next, we will move to the further topic about the performance of ω series.
Strength of ω series
High level is always required for the Institute for Environmental Science.
What are the strengths of ω series which can meet the high requirements.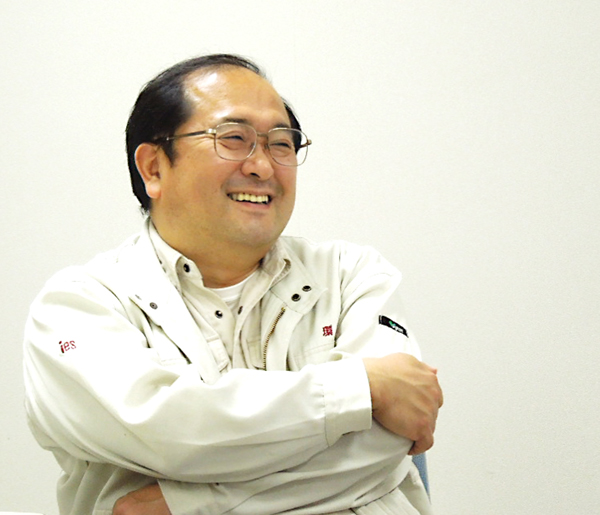 Mr. Takaku

The strength of ω series is the ultrapure water quality level equivalent to the plant level even by a small scale. Furthermore, it also would be good to be able to control TOC for some analysis. The analysis-related industries would appreciate the capability.

Mr. Nishimura

Mentioning the plant level, is it ultrapure water quality used for semiconductor cleaning process?

Mr. Takaku

That's right. The ultrapure water, which is used in the so-called "32 mega / 64 mega" DRAM production line, could be sampled. It is the strength that this level of water can be achieved with the small scale of the standard equipment.

Mr. Nishimura

You also mentioned TOC. Do you think that TOC management and control are necessary even for such standard equipment?

Mr. Takaku

It is important where the TOC is controlled by the plant-level equipment and also where organic analysis, especially trace organic analysis is conducted.
Strength of ω series
The reduction and control of TOC (TOC ≤ 1ppb) are considered as the greatest feature of ω series.
The required water quality is evolving along with the technological evolution of semiconductor industry.
Next, we would like to move the topic about why ω series is to be recommended.
Reason for recommending ω series
The real opinion from the actual use.
We asked Mr. Takaku why he recommends ω series.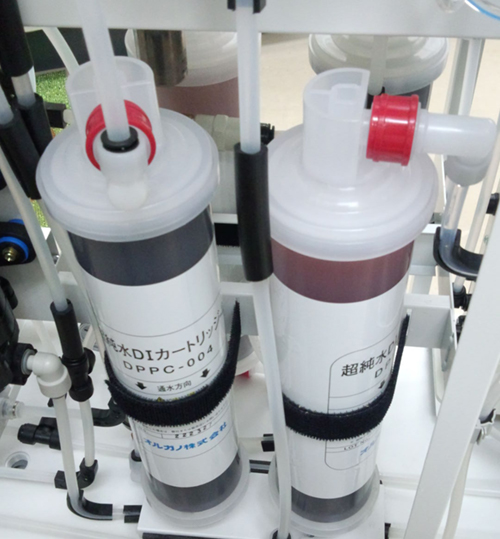 ω series is equipped with multi-stage treatment ion exchange resin cartridges.
Mr. Takaku

First of all, it is compact and functional.
It would be notable that the quality of plant-level (large-scale) ultrapure water can be achieved with the standard equipment.

Mr. Nishimura

Thank you for your explanation. Then, how about the usability?
ω series is equipped with the function of a foot switch and collecting a single drop of water.

Mr. Takaku

The foot switch is very important in my opinion.
It is a great feature to sample water without touching the equipment directly with our hands. As during the analysis most of the work is done with gloves, the equipment would be often hard to react with the gloves' touching operation. Hence, "Hands free" is an important factor us.
A single drop function would be a unique feature, but we don't use it much for our analysis purposes.
It should be useful in sample preparation for organic experiments. The amount is controlled by volume in normal analysis, but since we control it by weight, we do not adjust the volume by a single drop function.

Mr. Nishimura

Indeed, the volume of water changes depending on the temperature. As 100ml would not be always 100g, in such cases, a single drop function may not be useful.

Mr. Takaku

When ultrapure water with the same quality level as the plant is required, we should prepare complicated multi-stage treatments.
It includes not only the ion exchange resin cartridges but also the membrane and other processes.
When we prepare multi-stage processes, the system becomes complicated and large-scale. But to my surprise, ω series incorporates such processes for pursuing the performance by the standard model.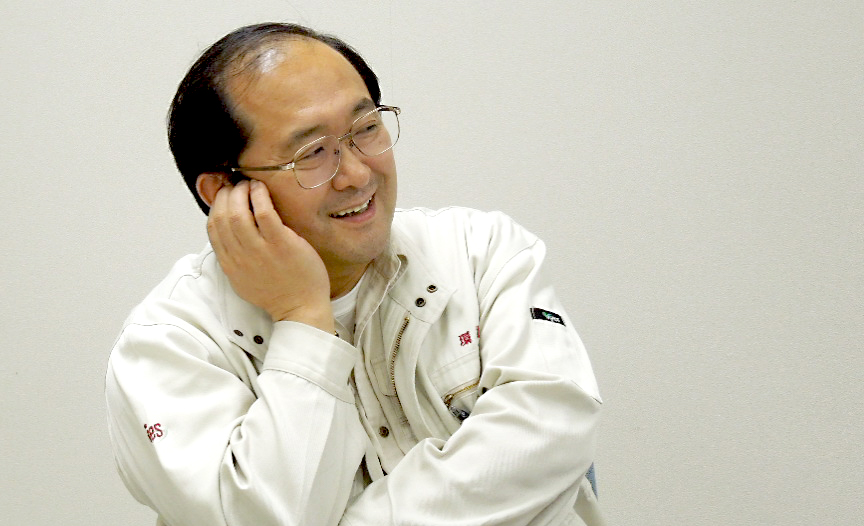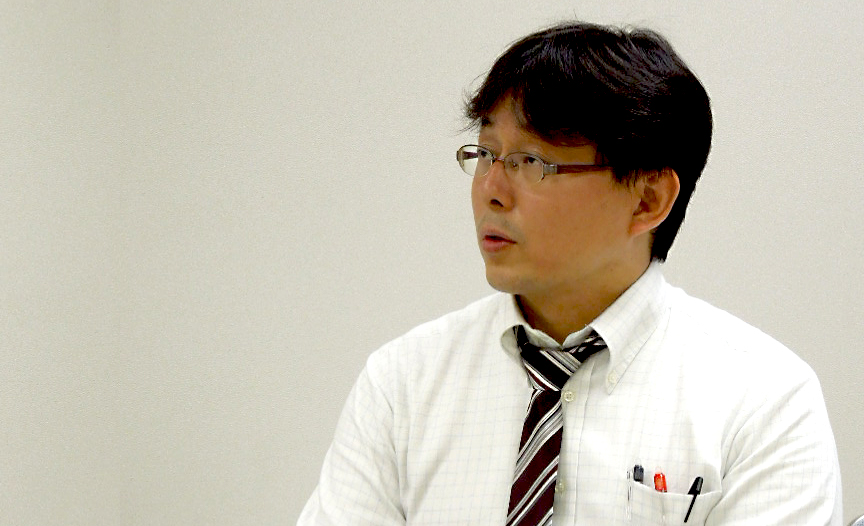 Reason for recommending ω series
As we mentioned the water quality of ω series in the previous page, here we more focused on the usability of ω series, which the customer felt from the actual use. ω series has too many other functions to explain all in few pages. We would like to continuously demonstrate them as many customers as possible.
A summary of the interview will come in the end.
Summary
What we learned through the interview.
We are confident that ω series has the excellent performance to meet the high-level demand of the industries.
Mr. Nishimura

I was very surprised through the interview to hear that Mr. Takaku is very familiar with ultrapure water technology. The knowledge is as high level as those experts in the water treatment industry.

Mr. Takaku

I was involved in the semiconductor-related work and got familiar with such technologies.
For example, in the analysis of silica, which is very important in semiconductor industry, ionic silica is measured by ion chromatography and organic silica is measured by atomic absorption. Then how should total analysis be measured including with colloidal silica? I was learning by trial and error in such a way as introducing MS (mass spectrometer), changing the pretreatment, or extracting and fractionating, etc.
I feel that Organo's ultrapure water technology for semiconductors is growing in line with responding to Mr. Takaku's demand.
I was also talking with reagent manufacturers and once I was helping to decide on a JIS(Japanese Industrial Standard) analysis method for ultra high purity reagents.

Mr. Nishimura

By listening to your precious story and opinions, we will understand your achievements and appreciate your work contributed to our industry.
We will keep meeting the customer needs like you, who tries to lead the industry and develop further steps to the future.
After the interview
To Organo, it is a precious opportunity to have an interview the users about how they use our products actually. Particularly, Mr. Yuichi Takaku is not only a user but well knows about ultrapure water technology for a long time. We found out that ω series is contributing to the work that industry-leaders are doing and also we would have to keep improving our technology and precuts all the way with such industry's evolution.
I decided to maintain performance and make new proposals so that I could continue to use it in the future.